The Speak Up for Libraries Conference is fully booked!
There is a waiting list in operation.
We are at maximum capacity and will be unable to accommodate anyone turning up on the day without a firm booking.  
All delegates have been sent an update today, confirming arrangements for the day.
If you have booked a place and you are unable to attend please let us know so that we can try to offer the place to another on the waiting list.
A room at The Marlborough Arms in Bloomsbury, a short walk from the Conference venue, has been booked for the post conference event, and anyone is welcome to join us.

 This year's Speak Up for Libraries  national conference on public libraries is this Saturday, 22 November in central London.  It will bring together local campaigners, union members, library users and library workers - and give them a rare chance to talk directly to the people who make the decisions at national level. This is crunch year for public libraries, with a general election due and two major inquiries - on England and Wales - reporting soon.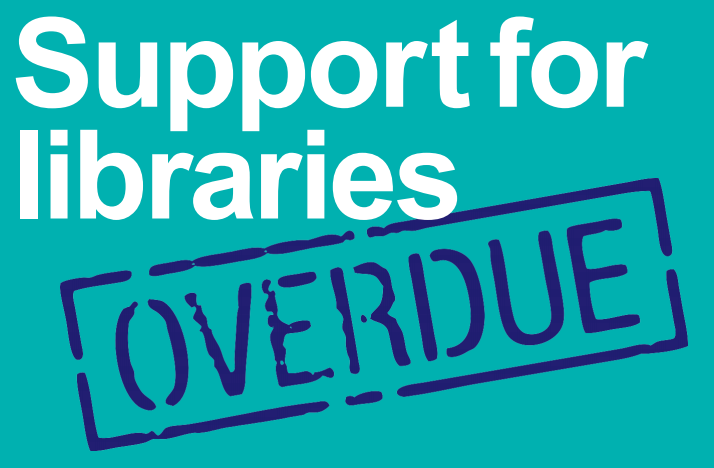 THE LINE-UP
Helen Goodman MP (Labour shadow minister)
Justin Tomlinson MP (Conservative)
The Green Party spokesperson not yet confirmed
LibDem spokesperson not yet confirmed
Sue Charteris, panel member of the Sieghart Review in England
Claire Creaser, chair of the Welsh Review of the Public Library Service
Barbara Band, CILIP President, will open the Conference
Ian Anstice, editor of Public Libraries News, will chair the workshop feedback session
Alan Gibbons, author and library campaigner, will chair the panel debate
PROGRAMME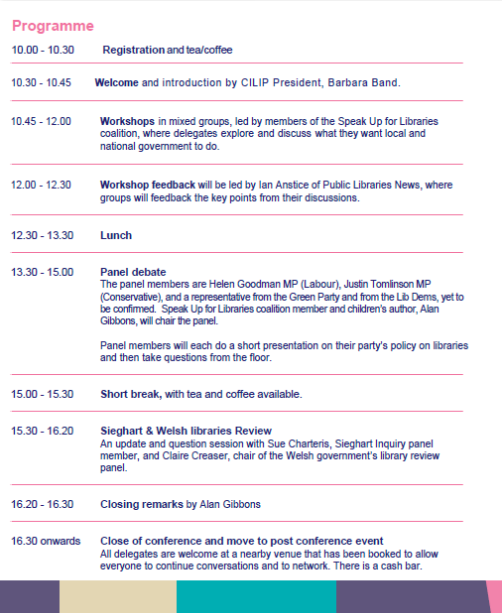 JOIN THE CONVERSATION
Facebook: Speak Up for Libraries
Twitter: @SpeakUp4Libs
And the hashtag for this event is 

#SUFLconf14

Since 1 April 2013, 693 professionally managed libraries (static or mobile) have already been lost in this way or remain under threat (out a UK total of c.4,265). Yet further damage is predicted as local authorities plan for further significant reductions in their funding.*
This has major implications.
Public libraries - especially small branches in deprived communities - are a vital resource for families, pre-schoolers, students, older people, benefits claimants, job seekers and all who need internet access, books, information and the essentials for citizenship. Properly staffed public libraries are irreplaceable, and cost very little to run.
Statistics produced by CIPFA (Chartered Institute of Public Finance & Accountancy) show a net loss of 212 libraries or mobile libraries in the UK in 2011-12, and 71 in 2012-13.

Public Libraries News estimates that in 2013-14, 491 libraries (including mobile libraries) were closed, or scheduled for closure, or became volunteer-managed.

Since April 2014, Public Libraries News reports that 202 libraries (including mobile libraries) are threatened with closure, have closed or will be handed over to volunteers

. http://www.publiclibrariesnews.com