Haven't booked your place for the Speak Up for Libraries Conference yet?
The good news is that the early bird booking rate of just £20 has been extended to Tuesday 20 October 2015.
The conference will bring together library campaigners, union members, library users and library workers. 
Speak up for Libraries Conference

10am to 4.30pm

14 November 2015

at CILIP
7 Ridgmount Street

LONDON
WC1E 7AE
PROGRAMME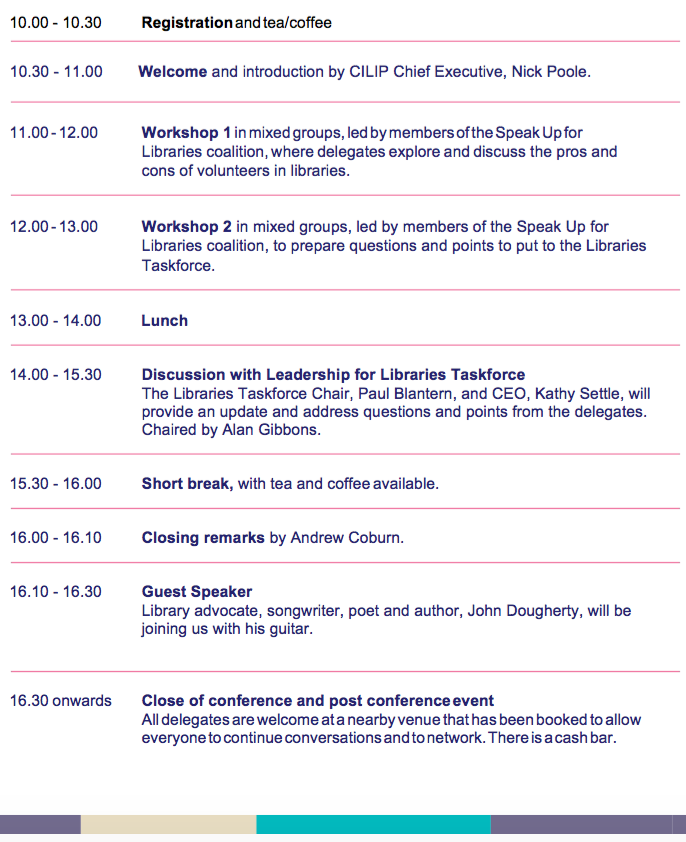 Full details are contained in the brochure, which you can download here.  Speak Up for Libraries Conference 2015
Please download and share copies for those not online, to help spread the word.
BOOKING
Book your place online on our Eventbrite page.
The Early Bird booking rate of only £20 per person  has been extended to include all bookings made by 20 October 2015.  If places remain after this date they will be at the full price of £25 per person.
All bookings include refreshments and lunch.
Please note, if you are booking for someone else, please ensure you know of any special requirements they may have before booking a place as this information will be required.  You will also be asked to indicate if the person you are booking for wishes for a group/campaign or organisation to be listed alongside their name, and an email address, on the delegate list for the event.
For queries or help to book a place, please call  020 8651 9552 or email SpeakUp4Libraries@gmail.com

JOIN THE CONVERSATION
Facebook: Speak Up for Libraries
Twitter: @SpeakUp4Libs