EDM No. 1025: 
That this House recognises that public libraries are hugely important to our communities; acknowledges that many have already closed or are under threat; welcomes the Speak Up For Libraries lobby of Parliament in support of the public library service on 9 February 2016; and calls on the Government to ensure that councils have enough money to provide well-staffed quality services to enforce the law that says local authorities must provide a comprehensive and efficient library service, to implement policy which secures people's statutory rights to a quality library service and to give libraries a long-term future by including a programme of library development and modernisation in the 2016 to 2020 Department for Culture, Media and Sport Business Plan.
EDM No. 1025: http://www.parliament.uk/edm/2015-16/1025 
Has your MP signed in support?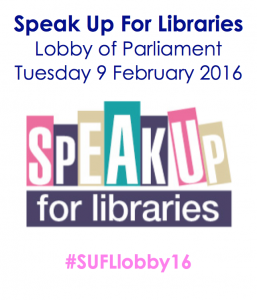 To attend the rally prior to lobbying your MP, find the details and how to book, here.
This event is open to everyone!